Enforced; Fulfilled; Executed
Surpassed; Eclipsed; Outperformed
Designed; Envisioned; Formulated
Authored; Composed; Produced
Designed; Initiated; Invented
Facilitated; Empowered; Accommodated
Synonyms for
Participated, Took part in
Joined; Engaged; Performed
Illustrated; Unveiled; Demonstrated
Investigated; Explored; Surveyed
Synonyms for
Thought through
Deliberated; Debated; Considered
Deciphered; Clarified; Mitigated
Promoted; Advocated; Authorized
Active Synonyms to Use for Key Skills
Anyone can list their leadership skills or
communications skills
, but what does that actually mean? How have you demonstrated that in your current or previous roles?
When hiring managers and recruiters read through resumes, they want to know exactly how you contributed to previous companies and how you might continue to do so in a new role.
Ideally, you should list between five and 10 key skills on your resume. However, instead of just simply listing those skills, consider providing bullet points that illustrate specific examples.
Here's an example of what a communications professional might have on their resume—and how they can transform these skills into active examples to make a much bigger impact:
Show Leadership:

Advocate for high-performing team members.
Show Communication:

Elevate clients through strategic public relations campaigns.
Show Time Management + Organizational Skills:

Streamline content creation processes by evaluating and introducing new management platforms.
Show Management Experience:

Recruit diverse talent.
Show Accomplishments:

Consistently outperform KPIs by 10%.
That is just an example for one specific industry, but if you're looking for additional action verbs to amplify your skills on your resume, check out the below chart.
Instead of listing these skills, provide specific examples using these active synonyms!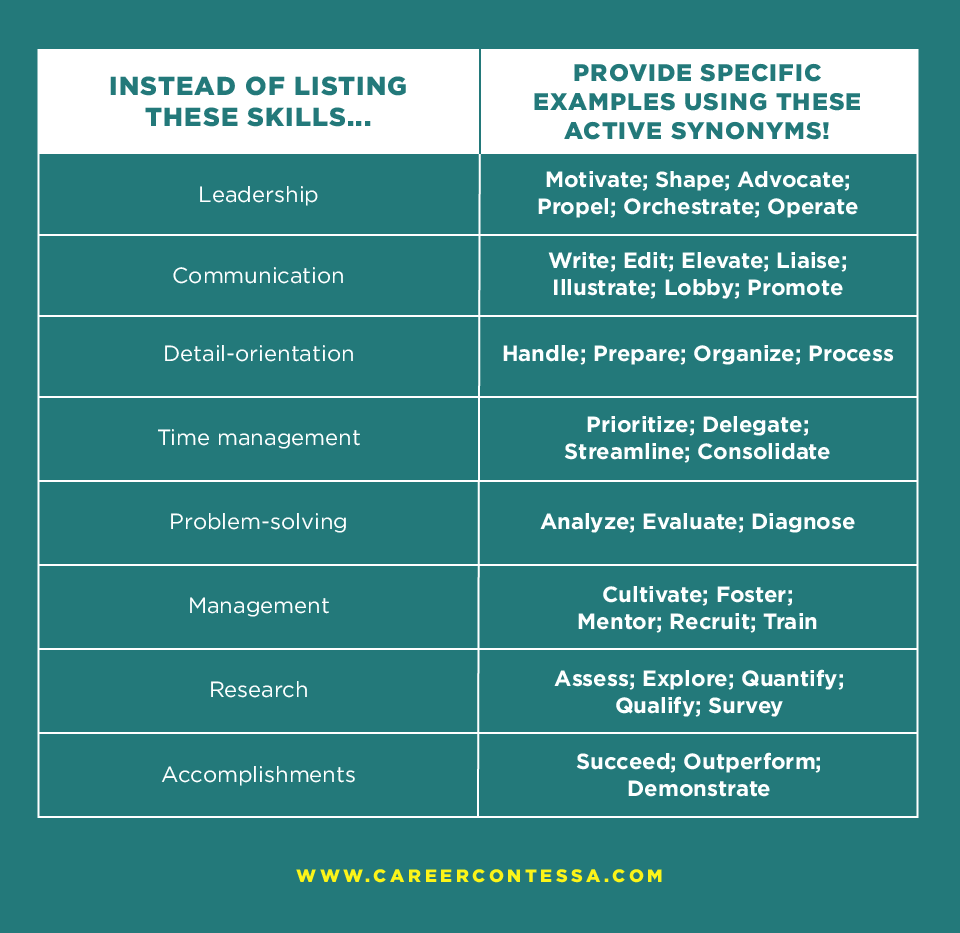 Leadership
Motivate; Shape; Advocate; Propel; Orchestrate; Operate
Communication
Write; Edit; Elevate; Liaise; Illustrate; Lobby; Promote
Detail-orientation
Handle; Prepare; Organize; Process
Time management
Prioritize; Delegate; Streamline; Consolidate; Decrease
Problem-solving
Analyze; Evaluate; Diagnose
Management
Cultivate; Foster; Mentor; Recruit; Train; Drew
Research
Assess; Explore; Quantify; Qualify; Survey
Accomplishments
Succeed; Outperform; Demonstrate
Using Industry-Specific Action Verbs
Resumes are not one size fits all, and it's important to pay attention to the
keywords in a job description
and adjust it depending on what's listed.
Hiring managers can tell if potential candidates took the time to customize their resumes for the specific role, or if they are probably sending out the same version to everyone. This tailored language will also show that you have the qualifications to understand and excel at the role.
If you're struggling to find industry-specific action verbs, here are some examples that might help amp up your resume: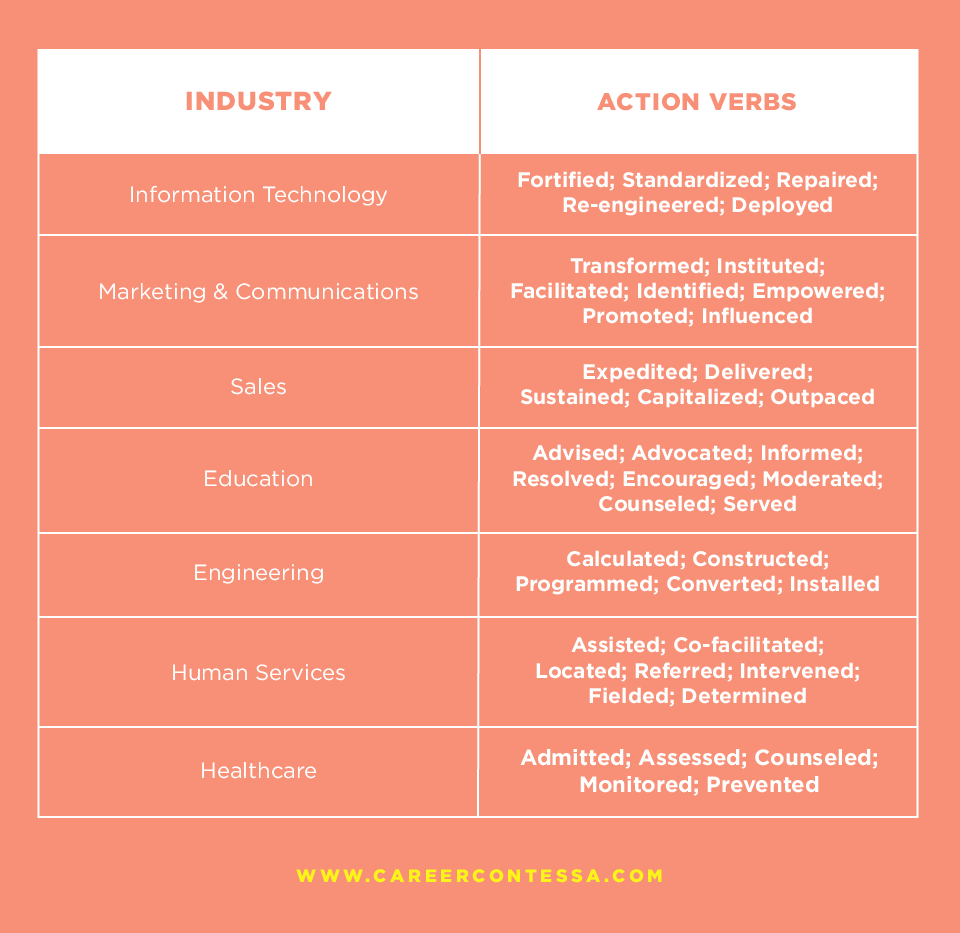 Information Technology
Fortified; Standardized; Repaired; Re-engineered; Deployed
Marketing & Communications
Transformed; Instituted; Facilitated; Identified; Empowered; Promoted; Influenced
Sales
Expedited; Delivered; Sustained; Capitalized; Outpaced
Education
Advised; Advocated; Informed; Resolved; Encouraged; Moderated; Counseled; Served
Engineering
Calculated; Constructed; Programmed; Converted; Installed
Human Services
Assisted; Co-facilitated; Located; Referred; Intervened; Fielded; Determined
Healthcare
Admitted; Assessed; Counseled; Monitored; Prevented
Resume Resources
At the end of the day, remember to put yourself in the hiring manager's shoes and consider what you would want to see in a resume if roles were reversed and you were the one hiring for the position. If you are in the process of crafting the perfect resume, here are some resources to check out.
If you need more ideas for strong action verbs to use on your resume, all you have to do is Google synonyms and action verbs, and a whole library of words will be available to you.
If you have a
mentor who you trust
in your industry, consider meeting with them to discuss how you can improve your resume. They might have some great insight!
College students, check out the career center at your school to find out if they offer free resume consultations.